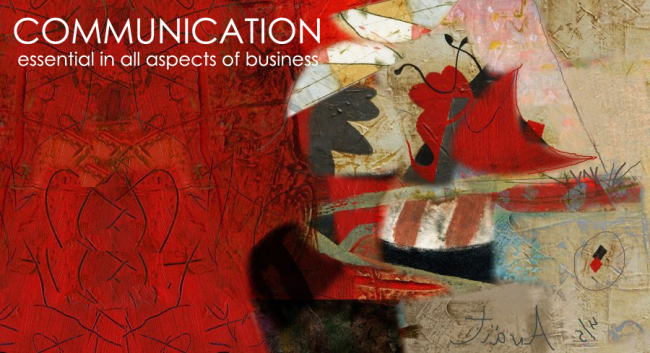 The Importance of Client Communication
Communication is essential in all aspects of business, whether interaction is achieved through words, writing, or actions. Without effective communication there can be no mutual understanding between individuals, exchange of information, nor expression of true feelings thoughts or ideas. It is so often taken for granted that when we speak to others what we say is actually perceived in the manner in which we meant for it to be interpreted. Too often we speak without forethought or consideration and our message is misconstrued by the recipient resulting in confusion or insult. Communication goes beyond the spoken word.
I am sure that everyone has heard the adage, "Actions speak louder than words." Not a new saying, but it is true nevertheless and speaks volumes about the way an individual feels about his or her situation.
If you wish to inspire others positively and make them receptive to your ideas, you must hone your communicative skills.
In today's fast paced society we are in so many ways becoming disconnected from one another. The convenience and efficiency of our high tech, yet impersonal, ways of communication has left many of us yearning for human contact and interaction.
Staying in Touch
Failure to communicate with customers for extended periods of can cause them to forget about you or make them think you no longer care about their business. When the time comes where they need your services again, they may decide to look to your competition instead. Even if a customer doesn't have a current need for what your business provides, the simple act of staying in touch with a newsletter, email or even the occasional in-person visit can reassure them you're still there to assist them whenever they need you.
Spend time on being excruciatingly clear. Assumptions can cause major problems, especially in a world where so many decisions are made by email. Make liberal use of lists, inline email responses, and reiterations of instructions. Don't be ashamed to use simple language and basic lists. It's no fun to have tasks completely undone because everyone assumed someone else was doing it. 
Use the phone. Not all business can be conducted by email. Some clients (especially older ones) simply prefer phone calls. Secondly, misunderstandings are always easier and faster to resolve via phone. Thirdly, voice communication creates a much more "human relationship" than email does -- and relationships are still the cornerstone of any service-based business. So always be ready to pick up the phone when necessary.
All in all, keep in mind that communication is your client's lifeline. I guarantee that if you consistently and honestly communicate with your client, you will be better than 90% of others and create a clientele that is very happy and extremely loyal.